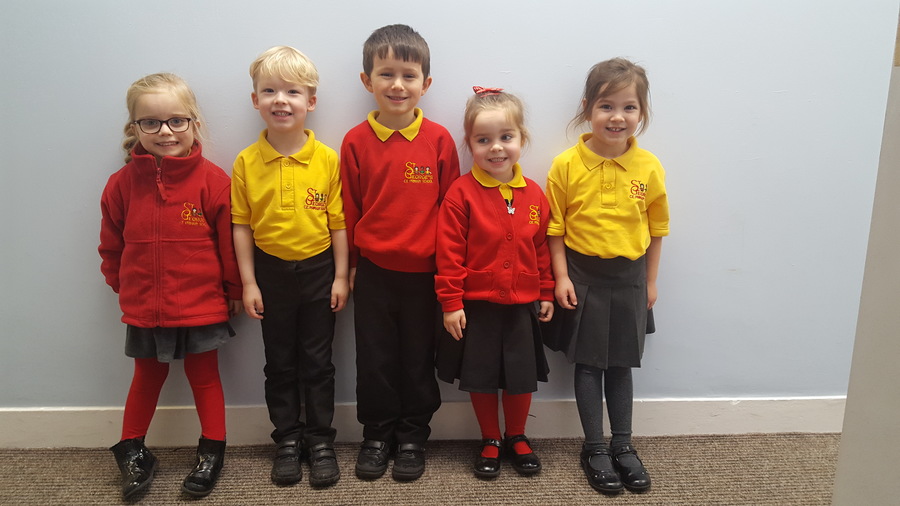 School Uniform
****NB From September 2020 we are asking that children come in the school uniform on Mondays, Wednesdays and Fridays. The uniform is as follows:
Girls – Winter Girls - Summer
Grey/black skirts/pinafore dresses/ Red/white check dress
trousers White socks
Gold polo shirt Black shoes / sandals (no trainers)
Plain Red sweatshirt/sweat cardigan
(with logo as optional)
White socks or grey/black tights
Black shoes (no trainers)
Boys
Grey or black trousers
Gold polo shirt (with logo as optional)
Plain Red sweatshirt (with logo as optional)
Black shoes (no trainers)
Dark socks
***On Tuesdays and Thursdays, children must come to school in their school PE kit. There will be no facility for the children to change
P.E./Games
All children will need a plain white T-shirt, navy or black shorts and pumps. Children can also wear black or navy plain jogging bottoms, a black or navy plain hoodie or sweatshirt and trainers for outdoor PE.
We would ask that all garments are clearly labelled with your child's name.
****Wearing jewellery, particularly earrings can present a risk of injury when taking part in certain activities in school.
Can we therefore please remind you that such items are not permitted in school. Earrings must be removed and not covered with a plaster.
****NEWSFLASH*****
We will no longer be selling uniform in school. If you wish to purchase new items, please click on the link below
https://myclothing.com/ueslink/22291.school
Items for PE are without a logo and may be purchased from any shop