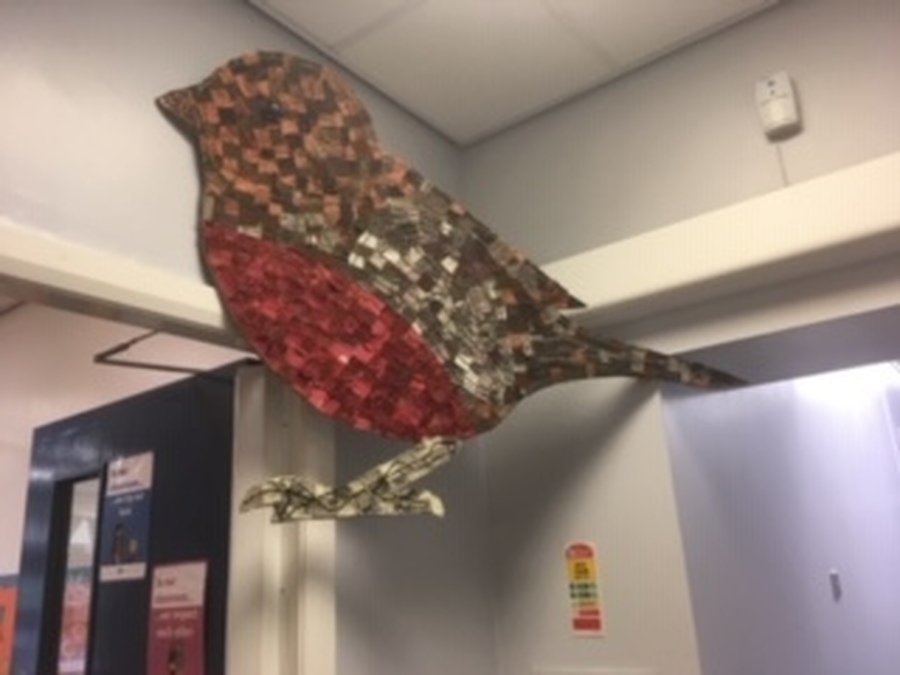 The Early Years is an exciting and important stage in children's lives. Reception builds the foundation of children's learning and enables them to learn to become independent, resilient learners in an exciting, interactive environment. At St George's Children will have the opportunity to explore both the indoor and outdoor, building relationships in a safe, secure and happy environment.
Class Teacher: Mrs Hanson
Teaching Assistant: Mrs Cane
Throughout this topic the children will explore plants, vegetables and human growth. They will compare and contrast toys over time and observe special features.
The text we are sharing this week is....................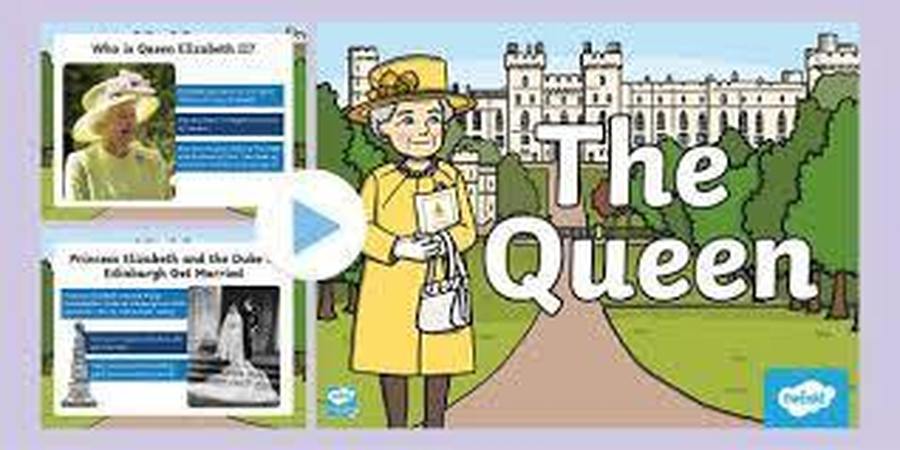 Continuous Provision Areas
We have had a couple of really exciting weeks in Robin Class!!
It all began two weeks ago when we arrived in school to find a bag of magic beans with a note asking us to follow some really specific instructions!! At first we were all a little apprehensive but our curiosity got the better of us and we decided to plant the beans and wait in anticipation to see what would happen.
We excitedly arrived in school the next day to find a magnificent beanstalk had taken root in our classroom (Mr Mayall wasn't happy as it had made a hole in the roof) and located a letter addressed to Robin Class that had been hand delivered. We hurriedly opened it to find it was from Jack asking for help as he had taken a musical harp and magical hen from the Giant and was now in hiding. He kindly asked if we would alert him to any sightings of the Giant. Busily we got to work to identify any clues the Giant had been lurking and created Wanted posters in the hope somebody could provide us with information.
A couple of days past without any sightings but when we arrived in school on Monday, following the weekend, we found a trail of enormous dusty footprints leading through the classroom. We had an inkling they belonged to the Giant but to be sure began a process of elimination. We used non standard units to measure the footprints found and compared the length to those of children and staff at St George's. Our investigations concluded they definitely belonged to the Giant!
Today the children were provided with beans to plant to grow their own beanstalk. As a class we shared a set of instructions 'How to plant a seed' and the children identified the key features e.g. numbers, time conjunctions and imperative verbs. The children then followed the instructions to plant their bean and highlighted how to care for their seed to ensure it grows healthily. They concluded seeds need soil for nutrients, water and sunlight. The beans are now situated on the windowsill in the classroom, How tall will they grow?
Robin Class planned and prepared an event to show their appreciation for their mum's. The children made an array of gifts, baked biscuits and scones and invited their mum's into school for the afternoon to be pampered. Take a look at the pictures below from the afternoon celebrations.........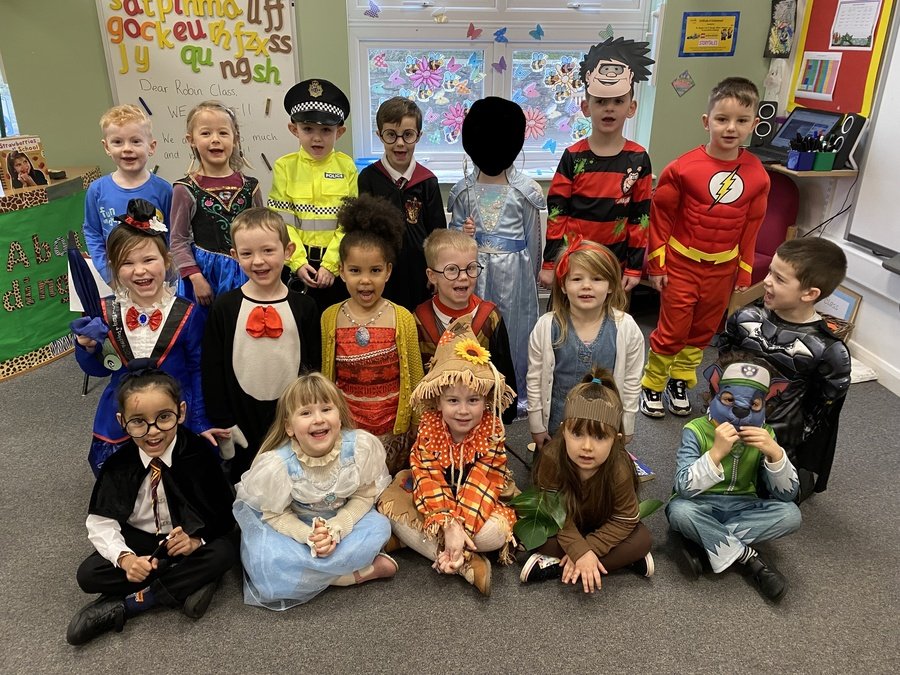 Our theme for World Book Day was 'The Day the Crayons Quit'. When the children arrived in school they were met with a message from the crayons informing the children that they had quit. The children shared their views to why they had quit and how they must be feeling. This led to us sharing the text as a class and identifying the reasons. From this the children wrote the crayons messages, made them cards, drew them pictures and designed a new crayon. In a group activity they wrote placards for the crayons stating their views.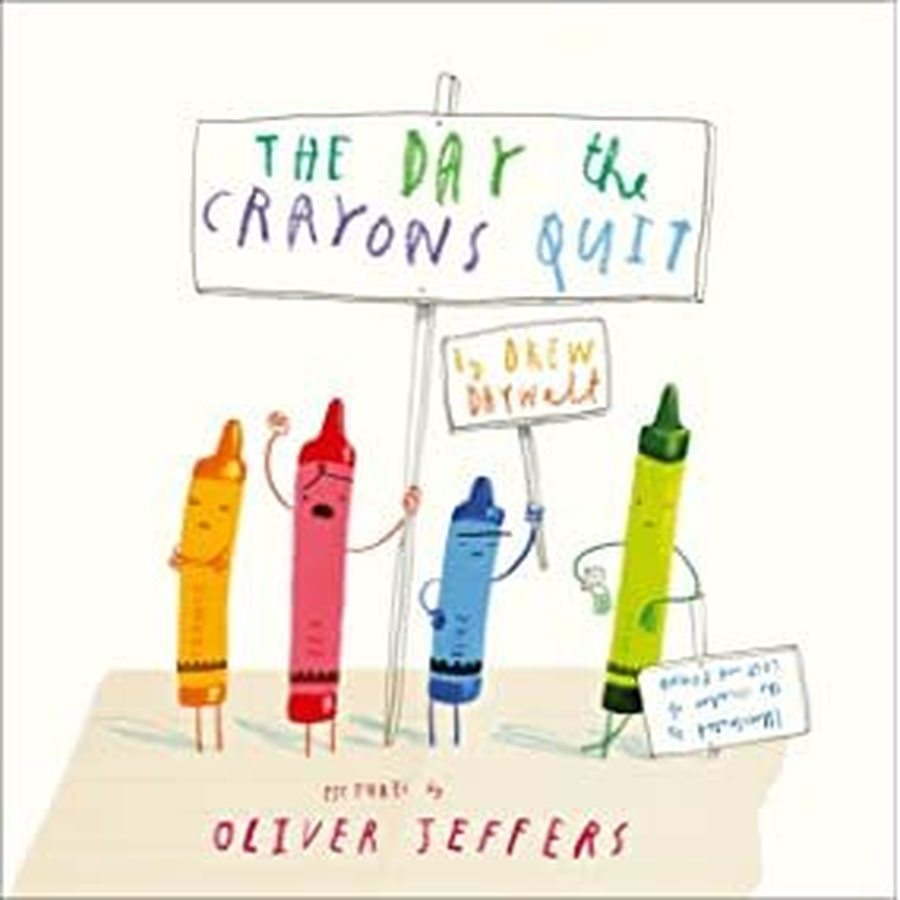 To support our class topic this half term Robin Class visited Legoland Discovery Centre. The children participated in a workshop, explored a variety of lego models and had the opportunity to create and adapt a model of their own.
Tameside held their first 'Befriending Week' this week where community
groups were asked to focus on activities and events which support the
wellbeing of the local community and raise awareness of social isolation,
vulnerability and loneliness in the community.
Therefore with the help of Dave Jones from GW Theatre, Robin class
children launched a zoom call on Thursday afternoon with the residents of
Sandon House to show an Act of Kindness.
In class they had made cards, bookmarks, wind chimes, bird food balls and
cupcakes and on the call shared the song 'You are my sunshine'. They then
went down to Sandon House to drop off the items.
Dave from GW Theatre sent this message afterwards
'That was wonderful – thank you to everyone who made that happen –
especially the children! What you've done is very special and much more
than anything I expected. It was quite emotional to watch and I'm certain
one of the residents joined in the singing! I'm very grateful to you and
proud to be able to work with you.'
Look what we have been doing in class..............................
Each Friday morning the children participate in a writing morning where they have the opportunity to embed writing skills introduced during whole class learning. The activities include using known phonemes to build CVC words, letter formation, name writing and a big draw.
We have been focusing on data handling in class this week. The children collected data regarding Robin Class's favourite toy using a tally chart. They then presented the collected data in both a pictogram and bar chart. From this the children identified the most popular and least popular toy choice in Robin Class.
Robin Class had some special visitors on Monday. Three local Police Officers very kindly took time in their busy day to visit school and talk to the children about the role of a Police Officer. The children were so excited and had lots of fun asking questions, taking a look at the officers uniform and exploring the Police Car.
Robin Class Trip to the Fire Station
As part of our class topic we visited the local Fire Station where the children had the opportunity to gain further information about the role of a firefighter. The children had the opportunity to dress as a fire fighter, take a close look at the special equipment needed to carry out their role, use the hose to douse a fire and explore the fire engine and listen to the sirens.
Robin Class went for an autumn walk around the local area to reinforce their learning in class. The children used their senses to describe what they could see, hear and feel.
Please log on to Rising stars daily and share a text that has been assigned. You can log on using your login details previously distributed. If you need these redistributing please send an email to Robin class email - robin@st-georges-mossley.tameside.sch.uk
https://my.risingstars-uk.com/Default.aspx?ReturnUrl=%2f
Practise reading words containing these digraphs on phonicsplay.

http://www.phonicsplay.co.uk/freeIndex.htm
At the moment Phonics play are providing free access to resources and games.
You may log in with the following details:
username: jan21
password: home
Tricky words song
Phase 2